The Ultimate Victoria, BC Photo Walk
When you have just a day to soak up the majestic beauty of Victoria, B.C., don't let a second go to waste. Hit the streets. Immerse yourself in the culture. And, don't forget your camera. You'll want it on this photo walk.
While B.C.'s quaint capitol is filled with elegant history, it has also bloomed into a hub for tech-savvy, food-loving, craft-beer-drinking enthusiasts. So lace up your shoes and bring your appetite for this awe-inspiring adventure.
10 Can't-Miss Sights in Victoria's Downtown
1. See Victoria's Beginnings
Established in 1843, Bastion Square is the original site of Fort Victoria. It is located at the heart of downtown, just above the Inner Harbour. The entrance is marked by a ceremonial arch. Deemed a pedestrian sanctuary, it connects foot traffic from Wharf Street to Langley Street.
Here, pubs border brunch spots and bookstores are tucked next to coffee shops. If you wander down Commercial Alley, you'll find wrought iron gates, old brick walls, and eclectic graffiti.
2. Wander Down the Narrowest Street
Spanning just three feet in some places, Fan-Tan Alley is the narrowest street in all of Victoria. In its early days, this sliver-sized passageway housed opium factories. Today, it is home to small novelty shops.
If you are looking for a bite to eat, stop near the alley's northern entrance at Don Mee. For more than 90 years its been serving patrons. While best known for its dim sum lunch, its selection of classic Chinese is equally as delightful for dinner.
3. Find Your Harmony
At the intersection of Government and Fisgard Street, the Gate Harmonious Interest mark the official entrance to Victoria's Chinatown. At its corners, a male and female stone lion stand guard, keeping away evil spirits. The large archway is decorated with symbols of positive energy, such as dragons and a pheonix.
4. Shop the Trendiest Boutiques
Did we mention how pedestrian-friendly Victoria is? Trounce Alley is yet another pedestrian-only passageway. It's filled with one-of-a-kind shops and bars with patio seating.
Discover the best places to shop in Victoria, BC.
5. Stroll Like a Royal
Opened in 1908, the Fairmont Empress is one of the most iconic landmarks in all of Victoria. Its Chateau-style estate spans the equivalent of two city blocks. The grounds feature 10 acres of lush gardens. And the interior is adorned with soaring chandeliers, stately columns, and stunning furniture.
6. See Where Laws Are Made
Arguably Victoria's most iconic landmark, the Parliament Buildings are located just beside the Inner Harbour. The neo-baroque design sits on a 12.5-acre spread and is adorned by 33 copper domes. Inside you'll find vaulted ceilings, marble floors, and grand archways.
7. Stand at a Point
Resting at the edge of Victoria's Inner Harbour, Laurel Point looks upon the main section of Victoria's Inner Harbor. From here, you'll have a first-row view of the Victoria Seaplane Terminal, where planes regularly dock and are tailed out (physically turning the nose away from the dock).
Ferries and the Victoria Clipper pass by frequently. There are water taxis, pontoon boats, and kayakers out for a paddle. You'll see fishing vessels, folks on stand up paddleboards, and probably a seal (or two). Around the edge, the grassy slope is studded with park benches, perfect for taking a break.
8. Visit a Floating Community
Fisherman's Wharf began as a dock for commercial fishing vessels, where captains could safely tie up for the night. But the commercial sanctuary eventually evolved into an eclectic neighborhood of colorful floating houses, boutiques, and eateries.
Visit to grab a bite, explore and shop. Just keep in mind, folks live on planks where you're walking. So be respectful of their space and property.
9. Catch a Water Taxi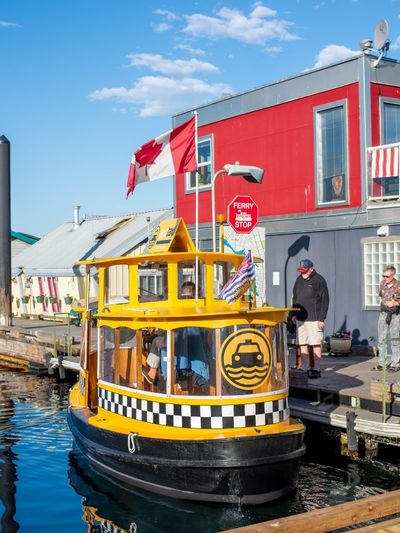 While you could certainly retrace your steps, Water Taxis are one of Victoria's most unique features. Hop aboard and these open-air vessels will take you across the Harbour.
10. Grab Some Fresh Seafood
Just beside the Victoria Seaplane Terminal, there are two awesome spots to grab some fresh grub from the sea – Red Fish Blue Fish and Flying Otter Grill. Red Fish Blue Fish is an outdoor waterfront eatery. Lines can be long and service can sometimes be slow, but their sustainably sourced menu is loaded with flavor. Grab a stool by the rail and enjoy your meal with a view.
For those who want more tableside service, the Flying Otter Grill offers a sit-down alternative. Their outdoor patio sits over the water and looks upon the Victoria Seaplane Terminal.
More Fun Things to do in Victoria
https://kenmoreair.com/wp-content/uploads/2023/02/Victoria-BC-Inner-Harbour-on-a-Sunny-Day.jpg
380
720
Mikaela Judd
https://kenmoreair.com/wp-content/uploads/2022/03/logo_kenmoreair_main.svg
Mikaela Judd
2023-02-27 05:00:00
2023-07-19 15:44:27
The Ultimate Victoria, BC Photo Walk