5 Luxury Resorts on Vancouver Island & the Sunshine Coast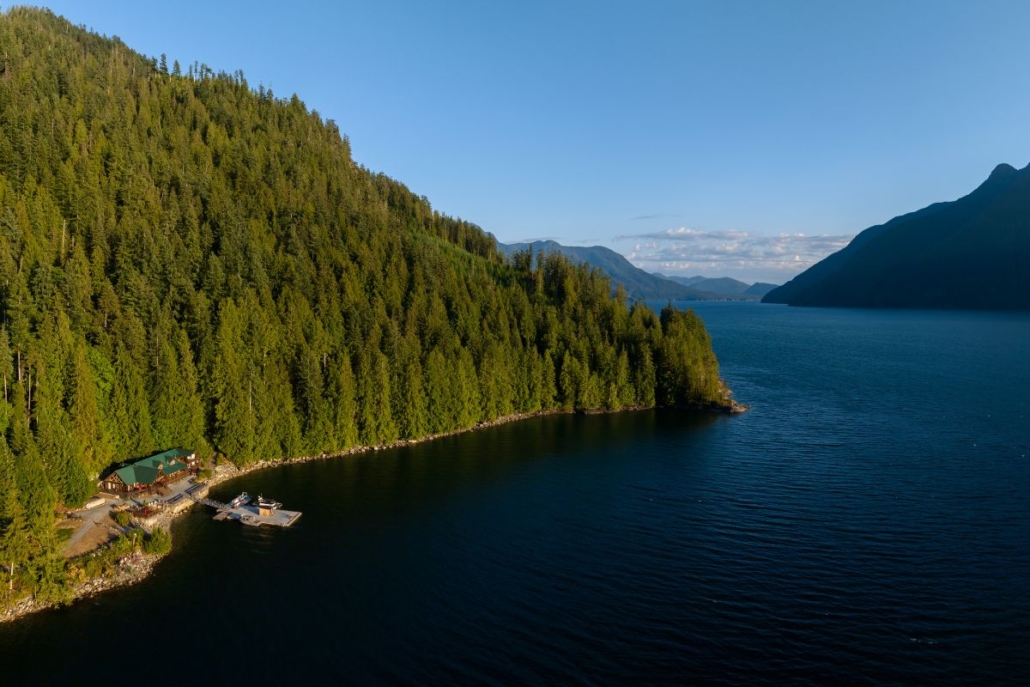 Whether it be a remote wilderness lodge, a comfortable resort on the beach or a refined hotel in the city, there is getting away and then there is truly escaping. Being open to new experiences, whether that be trying new local foods, stepping out of your comfort zone by kayaking through a deep fjord or being brave and pulling up a chair to connect with strangers over a shared meal are all certain to make your experiences richer.
You have probably heard the old adage 'getting there is half the fun,' but how does a seaplane ride, a boat ride or a dreamy road trip sound in order to reach your final destination? Below you will find a list of the current best places to escape from it all in and around Vancouver Island, and beyond.
Looking to reach these resorts as fast as possible? Kenmore Air flies directly to multiple destinations throughout Vancouver Island on both our regularly scheduled and charter flights.
Destination-Worthy Vancouver Island Resorts
1. Klahoose Wilderness Resort
Imagine being transported by boat past forested islands with eagles flying overhead and whales, porpoises, seals and otters passing by. After about an hour from leaving the charming, but quaint town of Lund, you come around the corner to see a lodge in the middle of seemingly nowhere. You are greeted by staff with the sound of drums and an unfamiliar, but soothing welcoming song.
Welcome to Klahoose Wilderness Resort, a small, remote, twenty-person lodge owned and run by Klahoose people. Your time there will be the perfect combination of a relaxing getaway, a jam-packed adventure and an immersive First Nation educational experience. There's much to see and do from wildlife boat viewing tours to cedar weaving and paddle carving to free time to read, paint, nap, swim or hang out in the sauna. There is an experience for every interest and fitness level at Klahoose Wilderness Resort.
On your wilderness boat ride keep your eyes peeled for bald eagles because they are good luck and hopefully a sign you are going to see a black bear or two in the coming hours. On our particular journey we had the most picture-perfect day where we were basking in the sunshine and in awe of the waterfalls and beauty that surrounded us. We saw black bears combing the shoreline for oysters and otters frolicking in the silt-laden waters. Partake in lunch onboard while you drop anchor by a waterfall and literally feel like you have the entire sound to yourself.
Enjoy happy hour al fresco after a swim followed by dinner on the expansive wrap-around deck. Relish in the attention to detail by staff like edible flowers on your plate, an already fired up sauna in the morning, baskets of blankets throughout the property just begging to be cuddled up in, and loads of healthy snacks waiting in the lobby for when hunger strikes. Watch hummingbirds zoom around while you eat, and seals pop up in the bay almost as if to say hello while you are paddling.
Spend your evening around the campfire or learning an indigenous skill like cedar weaving. Participate in a bathing ritual in a nearby river or smudging ceremony by the fire. Your visit to Klahoose Wilderness Resort will leave you inspired to lessen your footprint, give back more than you take from the land and live in harmony with the seasons. From their generosity and openness in sharing their culture to sweeping views there is so much to take away from your time at Klahoose.
2. Wickaninnish Inn
With miles of sandy beach, tide pools out the back door and wild beauty surrounding it, the Wickaninnish Inn is perched on a rocky cliff along the northern cape of Chesterman Beach. A few miles south of Tofino, the Wickaninnish Inn is central to exploring the rugged wilderness of Pacific Rim National Park and Clayoquot Sound. Clayquot Sound, although stunningly beautiful, is also a coastal area designated as a biosphere reserve by UNESCO.
The Pointe Restaurant at the Wickaninnish Inn offers small plates, a unique tasting menu, brunch, dinner and who can forget dessert. The executive chef at The Pointe takes pride in working with coastal fishermen as well as the Tofino-Ucluelet Culinary Guild to use the freshest B.C. based seafood, game and produce. Everything coming out of this kitchen is inventive, eye-catching, and delicious.
On Vancouver Island's west coast, you don't need to worry about packing your rain boots or raincoats because you will find them neatly awaiting your arrival and tucked into your room's closet. From storm watching to beach combing, surfing lessons and listening to the sound of crashing waves there is no shortage of things to do at the Wickaninnish Inn. Spend your days building sandcastles, enjoying picnics and embarking on wildlife excursions. You'll be reminded just how fun it is to spend all day outside and play no matter your age.
3. Black Rock Resort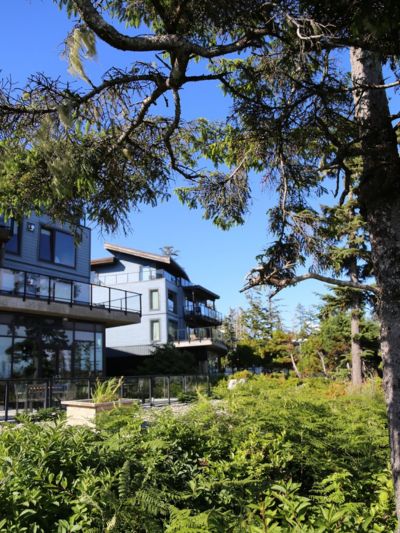 Located oceanfront, Black Rock Resort offers studios, along with one- and two-bedroom suites. The latter two are a great option if you are seeking a little more space to spread out and relax on the rugged west coast of Ucluelet.
Surrounded by rainforest, Black Rock Resort offers views, luxury and amenities a plenty. From a spa to an on-site restaurant, and easy-to-access trails there are not many reasons setting foot off property during your stay is entirely necessary. If you want to spend a majority of your time outdoors during the day there is nothing more appealing than having comfortable digs to beckon you back inside at night. Black Rock Resort is located on the Wild Pacific Trail making it a great spot for day hiking and adventuring. Aside from gorgeous views from your room, within minutes you can be outside exploring trails or walking along the beach.
Black Rock Resort is conveniently located a short walk from downtown Ucluelet. Even though it is a fairly remote location, there are a myriad of walking and bike trails making it both easy and enjoyable to get around without a car. One morning you can walk into town to grab a hearty breakfast or browse the local shops and galleries. Downtown Ucluelet is also the starting point for kayak trips.
Ucluelet is the type of place which lodges in your memory and has you dreaming about it for years to come.
4. Fairmont Empress Hotel
Location, location, location. If you are looking for a hotel in the heart of the charming capital city of British Columbia, one of the most picturesque cities on the Pacific coast, look no further than Fairmont Empress Hotel in Victoria. Just steps from the waterfront and the British Columbia Parliament Buildings, it affords you easy access from Victoria's Inner Harbor Airport. A weekend at the Fairmont Empress Hotel is as easy as it is relaxing.
With its lovely gardens, the Fairmont Empress Hotel is a serene spot in the city. (It's also a national historic site!) Beacon Hill Park is located close by and is the perfect spot to take advantage of the hotel's free bike rentals. In addition to bike paths, the park also offers footpaths, a petting zoo, and a variety of other activities. Furthermore, Beacon Hill Park is Mile "0" — the western terminus of the 8,000-kilometer Trans-Canada Highway.
Tour nearby Butchart Gardens or one of the many gardens in Victoria, or immerse yourself in local culture by enjoying afternoon tea. Victoria feels very British, and one of the things you have to do while you are there is partake in a proper afternoon tea. The most well-known place in town for afternoon tea is the Fairmont Empress Hotel. Enjoy small sandwiches and treats like smoked salmon, Coronation Chicken Salad, macarons, and scones while contemplating how this really should be something that is a part of everyday life at home.
One of the most entertaining things to do in Victoria is watching the seaplanes land and water taxis zip around the harbor. It's fun to watch all the boat traffic and when you stay at the Fairmont Empress Hotel you might just have a great view from your room. Whether you are looking for an afternoon cruise in a sailboat, an adventurous kayak tour or a full-day whale watching excursion, all may be enjoyed from Victoria Harbor, making it the perfect spot to spend a long weekend to relax and enjoy the view.
5. Oak Bay Beach Hotel
Nestled on the shores of the Pacific Ocean, the Oak Bay Beach Hotel offers sweeping views and a restful setting. Overlooking Oak Bay and the Strait of Juan de Fuca, Oak Bay is just a 15-minute drive from downtown Victoria. It offers a spectacular setting on a small, secluded rocky beach. Take in views of snow-covered Mount Baker while you relax in the saltwater pool or one of the three mineral baths. Feel yourself becoming rejuvenated as you enjoy the on-site spa.
Oak Bay Hotel is a unique property; it is located in a quiet, residential neighborhood, within walking distance to a handful of restaurants. On site, you will find such culinary juxtapositions as a British pub, and a fine dining restaurant. Of its 100 traditionally decorated rooms, many of them offer ocean views, private balconies or patios just begging to be enjoyed with a cup of tea in hand. Marble bathrooms with heated floors and large soaking tubs make you contemplate never wanting to leave.
The thing that stood out the most at Oak Bay was the level of service, especially from concierge, Dillon Carfoot. Not only has Dillon been at the property for many years, but he is an expert at all things local. Need to know where to go hiking, best places to go whale watching, restaurants for certain dietary restrictions or a good place to get an ice cream cone Dillon either knows the answer or quickly finds out for you. You never feel like you are inconveniencing him and Dillon's level of professionalism and passion for what he does is nearly impossible to find elsewhere.
Gorgeous properties on captivating pieces of land are nothing without the hard-working people who clean your rooms, make your bed, and prepare your meals. The opportunity for more intimate and personal experiences is stronger when you visit a smaller property like the ones listed above. The opportunity to rub shoulders with locals will always make your travels so much more remarkable and these idyllic settings are certain to be places where you will make memories to last a lifetime.
More Fun Things to Do on Vancouver Island
https://kenmoreair.com/wp-content/uploads/2023/08/The-remote-Klahoose-Wilderness-Resort.jpg
380
720
Lisette Wolter-McKinley
https://kenmoreair.com/wp-content/uploads/2022/03/logo_kenmoreair_main.svg
Lisette Wolter-McKinley
2023-08-24 14:53:15
2023-08-25 21:53:58
5 Luxury Resorts on Vancouver Island & the Sunshine Coast