70+ Things to do in Victoria, BC this Spring
With the days growing longer and the weather turning from cold to sun-filled, the BC capital seems to wake up. Hanging baskets once again take their stand throughout the city. Foot traffic increases, though not so much as to be overwhelming. The longer days mean more time spent enjoying meals outdoors, exploring parks, and savoring views.
Depending on who you ask, spring in Victoria may very well be the best time to visit. Discover 70-plus flower-filled, thrilling, and unique things to do in Victoria, BC, this spring.
Can't Miss Flower Displays, Gardens & Parks in Victoria BC
Thanks to its location in the Olympic Rainshadow, gardening has long been a beloved pastime in the greater Victoria area. Private and public gardens abound, with some of the most world-renowned floral displays that span all four seasons.
1. Victoria's Cherry Blossoms
With Victoria's sunny weather and temperate climate, cherry blossom trees flourish. Between February and May, pink and white petal archways transform sidewalks and streets into an idyllic paradise. The iconic blossoms can be found on both cherry and plum trees, which boast between 250,000 and 750,000 blossoms per tree.
2. The Butchart Gardens
Considered one of the best gardens in the world, The Butchart Gardens offer year-round floral displays. But they are particularly spectacular during the spring. As the chilly winter days fade, they give way to the warmth of new life. Tulips and daffodils line the walkways. Ornamental cherry blossoms create ethereal backdrops. Rhododendrons burst with flowers. And the peonies open, as if saying a gentle hello.
Learn more about Spring at The Butchart Gardens.
3. Victoria Butterfly Gardens
There's something magical about butterflies. Perhaps it's their brilliant colors. Maybe it's the way they flit and float. Maybe it's that they're actually magical (or at least we can pretend). The Victoria Butterfly Gardens allow you and your littles to fully immerse themselves in the world of butterflies. Home to roughly 70 different species, this amazing indoor terrarium is located just 30 minutes from downtown victoria.
In addition to butterflies, it's home to carnivorous plants, giant koi fish, free-flying birds, large iguanas, frogs, and tortoises. It's also conveniently positioned on the way to The Butchart Gardens, if you want to combine your adventure.
4. The Teahouse at the Abkhazi Gardens
Known as the "garden that love built," the Abkhazi Gardens were created in 1946 by Georgian Prince and Princess Abkhazi. While the finely manicured grounds are just one acre, they are a captivating and lush escape from the everyday. Studded with natural beauty, some of the highlights include Garry oaks, Japanese maples, and a large rhododendron collection.
5. Hatley Castle & Gardens
Ever wondered what life would be like as an X-Men? While no one can give you special powers, you can walk the grounds at the Xavier Institute. At least, you can pretend to. The historic Hatley Castle & Gardens was used during the filming of the X-Men (among other popular movies, like Deadpool).
Tours are available of the building's interior, but the grounds are also not to be missed. Cherry blossoms and flowers surround the enchanting Japanese gardens.
6. Beacon Hill Park & Children's Farm
Spanning more than 200 acres and nestled next to downtown Victoria, BC, Beacon Hill Park is one of the city's most unique highlights. Featuring a wide array of nature preserves, finely manicured gardens, picnic areas, playgrounds, and splash pads — it's interwoven with dozens of walking trails and scenic viewpoints.
The park buds right up against the Salish Sea, providing easy access to the rocky shores. Plus, it features a seasonal Children's Farm! With an amazing petting zoo and daily "Running of the Goats," a furry stampede of baby goats, it's a highlight for those young and old.
7. Government House and Garden
Eleven unique gardens, terraces, and orchards can be found at the Government House and Garden. There's even a duck pond, which is frequented by quacking visitors. Here, you'll find nine-foot rhododendrons, an impressively large herb garden, hydrangeas, sprawling grasslands, and more. For a view of the entire gardens, the Woodlands Viewpoint offers an unobstructed vantage point.
8. Finnerty Gardens
Nestled at the edge of the University of Victoria campus, the Finnerty Gardens feels like a sanctuary. The woodland garden stands in stark contrast to the bustling of college life, featuring more than 4,000 different trees and shrubs that burst with new growth during the spring.
The gardens aren't the oldest in the city. In fact, they were developed in just 1974. Jeanne Buchanan Simpson left her Cowichan Lake estate to the university. She and her husband had amassed an impressive collection of rhododendron species and the university decided to move the flowering shrubs to campus — becoming the nucleus of the new garden.
9. Horticulture Centre of the Pacific
In 2017, the Horticultural Center of the Pacific was named "Garden of the Year in North America" by the Candian Garden Council. There's little wonder why. The nine-acre display beautifully showcases a wide breadth of beauty, from vibrant blossoms to lusciously-scented herbs. The Bonsai Garden is particularly delightful, home to more than 60 different bonsai trees.
Can't Miss Water-Based Things to do in Victoria, BC
Nestled at the southern-most tip of Vancouver Island, Victoria is ringed with shorelines, studded with protected inlets, and filled with a plethora of beach-front access. The result is a destination loaded with fun water-based activities that those of all ages can enjoy.
10. Shaw Center for the Salish Sea
Just 30 minutes outside of downtown Victoria, the cozy seaside town of Sidney offers stunning vistas and a seaside vibe, making it the perfect location for the Shaw Center for the Salish Sea.
Part aquarium and part cultural center, it houses 160 species of marine life. Featured residents include a giant Pacific octopus, Pacific salmon, wolf eels, and a host of regional Coast Salish art. Be sure to stop by the touch pool, where you can touch a number of ocean creatures.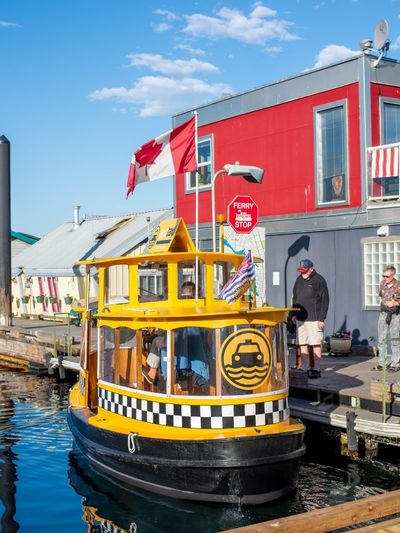 11. Watch the Pickle Boat "Water Ballet"
Nestled along the coastline, Victoria has long taken advantage of the Inner Harbour's protected waters. But what makes the city so friendly for boats, can make it difficult for pedestrians to navigate — water. In 1990, the Victoria Harbor Ferries (aka 'Pickle Boats') began offering a dry and fun solution. Offering passenger-only service (the boats hold up to 12 passengers), they provide dock-to-dock transportation to 14 different locations throughout the Inner Harbor.
But indeed, one of the most unique things they do is put on a "Water Ballet"! You'll want to check the Harbour Ferry website for the schedule (which is slated to resume during the spring). Then plan your day accordingly. The Pickle Boat captains' skill and the boats' maneuverability as they 'dance' beside one another are impressive!
12. Kayak Tours
There's something entirely unique about exploring a new destination by kayak. Thanks to the low profile and easy maneuverability of these boats, you can glide past the rocky shoreline, getting a view seldom seen by others. Not to mention the picturesque landscape (in the Inner Harbour and beyond), which makes this a breathtaking highlight.
13. Sooke Potholes
During the summer months, the Sooke Potholes can become quite crowded — thanks to the fact that the crystal clear water is one of the best places for a quick dip, quiet stroll, and picnic. So visiting during the spring is the perfect time to see the deep polished rocks filled with crystal clear water. While you might want to skip swimming, be sure to bring some snacks. This is one place you'll want to spend time.
14. Whale Watching & Wildlife Spotting
The Salish Sea is home to wildly diverse and magnificent wildlife, especially during the spring when whales and orcas begin to migrate back to the protected waters. In addition to Orcas, humpbacks are a common whale sighting. Plus, the temperate waters are a year-round home to sea lions, seals, bald eagles, and more!
15. Surfing in Tofino
Nestled at the north-western edge of Vancouver Island, visiting Tofino feels a bit like stepping back in time. There are no stoplights or chain restaurants (yay!) and the old-growth forests are an untouched wonder.
During the winter, storms gather on the coast, offering a dazzling display of crashing waves, followed by stunningly clear skies. But in late February, the turbulent waters begin to calm, giving way to the ideal surfing weather — a plethora of ridable waves and more temperate weather.
16. Cruise around in a Hot Tub Boat
Soak away the last chill of winter with a warm dip in your own personal hot tub. The best news? You can do so while floating in Victoria's Inner Harbour! The Hot Tub Boat Victoria provides rentable boats equipped with a hot tub, perfect for staying warm and relaxed while soaking in the Inner Harbour. Each boat is heated by an onboard stove while underway.
17. Floating Wood-Fired Sauna
Anchored in a remote section of Clayoquot Sound, the traditional territory of the Tla-o-qui-aht First Nation, bobs a floating wood-fired sauna. It's outfitted with dock hammocks and equipped with paddleboards. A rope swing dangles overhead and an outdoor firepit is rimmed by Adirondack chairs.
Moving from the steamy heat to an icy plunge, and back to the warmth again is an exhilarating mix of relaxation and timeless fun. But there's also a stillness amongst the forest-lined waters, even as laughter ripples through the air. Heightening this sensation is being completely unplugged. Because while the WiFi may be weak in Tofino, it's nowhere to be found at the sauna. It's just you and those you travel with, savoring the shocking disparity between fire and ice.
Looking to fill your soul and your belly? Round out the excursion by foraging for crab and prawns. For the ultimate treat, bring your catch back to the talented chefs at 1909 Kitchen where they'll give it the love it deserves.
Victoria BC's Can't-Miss Historical Landmarks
While Victoria has certainly evolved with the tech world, the city's historic roots live on through a large collection of preserved buildings and historical landmarks.
18. Explore Victoria's Historic Chinatown
The oldest Chinatown in Canada (and the second oldest in North America), this historic neighborhood in downtown Victoria was established more than 150 years ago. It began as little more than a collection of crude wooden shacks. But as the city grew, so too did Chinatown. Today, it is a designated National Historic Site where iconic landmarks, like the Gates of Harmonious Interest, are cared for and preserved.
19. Wander Down Fan Tan Alley
While indeed a part of Victoria's Chinatown, Fan Tan Alley is a destination in its own right. This pedestrian passageway is the narrowest street in all of Canada. It spans just three feet in some sections — meaning most pedestrians can't even fully extend their arms! While it boasts a colorful past of opium dens and gambling joints, it has become a hub for restaurants, galleries, and novelty shops.
20. Tour the BC Parliament Buildings
Resting beside Victoria's Inner Harbour, the Parliament Buildings are one of the most iconic landmarks in all of downtown Victoria. The neo-baroque design was constructed between 1893 and 1898. It features 33 copper domes of varying sizes. And, it sits on a 12.5-acre site with sprawling lawns, waterfalls, and harbor views.
Visitors are welcome to take self-guided tours or join one of the regularly scheduled public tours of the Parliament's interior. This can be a fun way to see where laws are made.
21. Craigdarroch Castle
Completed in 1890, ghosts are said to frequent the Craigdarroch Castle. But whether you believe in ethereal spirits or not, don't worry. They're not out during the day. You can safely explore the 39-room estate without meeting anyone from another time. The carefully restored and maintained castle allows you to see how Victoria's elite used to live, giving you insight into a time when life was slower and opulence was celebrated.
22. Government House
The official residence of the Lieutenant Governor of British Columbia, the Government House was constructed in 1860. While the home's interior is not currently open for public tours, you are welcome to explore the 36-acre grounds from dawn to dusk. Here you'll find finely-manicured flower beds and lush grasslands.
23. Emily Carr House
Born and raised in Victoria, Emily Carr is considered one of the leading artists of the Canadian modernism era. Her paintings of the West Coasts' First Nations peoples and coastal environment are widely considered some of the best ever to have been made. You can see a collection of her work and learn more about this amazing artist at her childhood home — a sunny yellow house that has been preserved in victoria's inner core.
24. Christ Church Cathedral
At first glance, architectural buffs may assume that Christ Church Cathedral was built by a 14th-century Parisian architect. However, the impressive stone structure was constructed in 1929. It houses a massive free-standing organ and elegant stained glass windows that flood the sanctuary with multi-colored light.
As you explore the church's exterior, keep an eye out for the unique seven-circuit labyrinth. It is said that walking this path can help spark creativity and focus the mind.
25. St. Ann's Academy
While St. Ann's Academy isn't one of the city's most iconic structures, it is one of Victoria's oldest. The building was constructed in 1858. It boasts ornate features like gold-leaf detailing, original oil paintings, and stained glass windows.
26. Point Ellice House
Located at the edge of the George Waterway, Point Ellice House is just north of Victoria's Upper Harbour and the Bay Street bridge. The impressively large lot spans two acres, making it the longest remaining stretch of natural shoreline along the waterway.
The home was constructed between 1861 and 1862 for Catherine and George Saunders. It features a villa-style design that was popular during the era. In 1867, Peter O'Riley purchased the estate, expanding the house and landscaping the gardens. More than 100 years later, in 1975, British Columbia purchased the estate from the O'Riley family and deemed the home, its belongings, and its gardens a heritage site.
Top Things to do with Kids in Victoria
There's a wide variety of fun things to do with kids in Victoria, making this an ideal family getaway destination.
27. Miniature World
One of the best ways to make a kid feel big and important is to show them what life is like when they are, in fact, big. Victoria's Miniature World features more than 85 different dioramas and displays that range from historical events to fantasy recreations.
Kids and adults will both take joy in the exhibits' push-button features that activate lights, trainsets, and more. How long will it take to explore? That's really up to you. Elements have been painstakingly developed down to the smallest detail, making this a museum where you could spend hours if you so choose.
28. Victoria Bug Zoo
In keeping with the larger-than-life theme, the Victoria Bug Zoo is home to hundreds of small critters. This micro-zoo promotes learning about bugs in a hands-on environment (with bug-keeper supervision of course). Among the specimens on display are giant walking sticks, praying mantis, tarantulas, and glow-in-the-dark scorpions.
29. Kinsol Trestle
The best adventures with kids often include walking (but not too far) to an impressive destination. The 'trek' to the Kinsol Trestle is just that. Located along the Cowichan Valley Trail (a 62.8-mile point-to-point trail near Cowichan Valley), the trestle can be reached in under a mile from the Kinsol Trestle Parking Lot. The path is relatively flat and well-maintained. And the trestle itself is an impressive engineering feat that towers above the canyon below.
30. Children's Prince & Princess Teas
Tea at the Fairmont Empress is one of Victoria's most iconic activities. But this elegant affair isn't just for adults. In fact, the Empress has a specific offering just for children (those ages five to twelve). In addition to fragrant cups of steaming tea, the event includes decadent bites specifically developed for children.
31. Visit the National Toy Museum of Canada
Have you ever thought to yourself (or said aloud), "When I was a kid…" If the answer was yes, this museum is for you. The National Toy Museum of Canada will take you (and your children) back in time. It's loaded with toys from the 1960s to the 1990s. Games. Dolls. Action figures. You name it. It's there.
32. Take a Carriage Ride
Want to explore the city, enjoy some fresh air, and get your kids' attention? Go for a carriage ride. These horse-drawn adventures are an old-school mode of transport that takes you through some of Victoria's oldest neighborhoods and quaintest streets.
33. Admire the Totems at Thunderbird Park
Victoria's Inner Harbour has been home to the First Nations peoples for thousands of years. Among the rich traditions of these amazing peoples are intricately carved totem poles. In 1941, Thunderbird Park was established in downtown Victoria to display and preserve a wide array of these beautiful pieces. Located at the corner of Belleville and Douglas streets, beside the Royal BC Museum, it spans one city block.
34. Visit Tofino's Carving Shed
The Carving Shed at the Wichaninnish Inn feels a bit like magic. Nestled beside the beach, it smells of woodchips and sea salt. Woodworking tools, heavy with hand oils and smoothed by years of use are scattered across tabletops. Carvings in various states can be seen on display. And, you'll frequently find the carvers in residence at work, gently manipulating the wood to reveal a new shape. It's an exquisite experience.
35. Royal BC Museum
Hosting a wide array of interactive and immersive exhibits, the Royal BC Museum invites visitors to step back in time. A full-scale replica of Discovery, Captain George Vancouver's H.M.S. ship, is on display. You can even walk inside the captain and senior staff's quarters to see how spacious the top brass lived. (Fair warning, it's not spacious.)
Experience life beneath the sea in a Victorian-era submarine. And, compare yourself to a full-sized woolly mammoth (who is affectionately known as Woolly).
36. Visit the Canadian Museum of Flight
Love airplanes? The Canadian Museum of Flight is dedicated to restoring and preserving aircrafts and aircraft engines. It's an exceptional look into Canadian aviation history, showcasing some of the most unique and important airplanes to have flown for, and in, Canada.
Best Exciting Activities in Victoria, BC
While Victoria's farm-to-table cuisine and old-world elegance may make you think this city is all about the slower-paced life, it's not just peaceful walks and leisurely meals. The city, and all of Vancouver Island, offer a wide array of fun and thrilling activities.
37. Zip Line Adventure
While we're partial to flying in a plane (obviously), there's something decidedly thrilling about ziplining. Your body whips through the air, skimming the forest floor and zooming past trees. It's exceptionally unique. AdrenaLINE Zipline Adventure Tours offers a roughly two-hour excursion featuring eight ziplines that range in length from 150 feet to 1,000 feet. Plus, the adventure includes traversing a 100-foot suspension bridge.
38. Ghostly Walks
When it comes to ghosts, Victoria is no stranger. In fact, Readers Digest Canada, ranked two of the city's iconic buildings among the 10 most haunted places in ALL of Canada: Craigdarroch Castle and the maritime Museum of British Columbia. One of the best ways to get to know these lingering spirits is during a guided ghost tour with Ghostly Walks. Each tour takes you through some of the city's spookiest haunts.
39. Bungee Jumping, Axe Throwing & More! 
The 150-foot free-fall gives you a full-body experience of gravity's power. Jumping off the bridge (with the security of a specialized rope designed for a smooth rebound), you can dive towards the tranquil waters of the Nanaimo River with WildPlay Nanaimo.
What other exciting adventures will you find at this enchanting wilderness park? Axe throwing, adventure courses, ziplines, and more!
40. Malahat SkyWalk
The Malahat SkyWalk combines the tranquil elegance of nature with the jaw-dropping beauty of expansive views and the thrill of heights. It includes an elevated boardwalk that's just under half a mile. (There's a scavenger hunt along the walk, with a wide array of wildlife, including a sasquatch.)
It's the Spiral Tower that's the real star. Standing at an impressive 820 feet above sea level, it towers over the forest and offers a 360-degree view of the surrounding area. In addition, at the top of the lookout, you can walk across an adventure net strung 275.5 feet (84 meters) above the ground. And for those who don't want to walk back down the tower, a 66-foot (20-meter) spiral slide can take you to the bottom.
41. The Raptors
What's it like to come face-to-face with a hawk? Cowichan Valley's The Raptors center offers a variety of interactive experiences, some of which include holding a bird of prey on your arm!
Victoria, BC Lighthouses, View Points & Scenic Walks
As Victoria has grown and evolved to keep up with the times, it has also preserved its past. Elegant lighthouses, stunning viewpoints, and scenic walks abound.
42. Ogden Point Breakwater
Ogden Point Breakwater may well be Victoria's most popular walk, and with good reason. The half-mile cement structure juts out in the Strait of Jan de Fuca, creating a barrier between the open sea and the protected waters of Victoria's Inner Harbour.
It offers a unique view of cruise ships, ferries, sailboats, seaplanes, and more sharing this international waterway. The tip is marked by a lighthouse, which adds even more beauty to this picturesque location. It's also one of the best places to watch the sunset in Victoria.
43. Gonzales Observatory
Despite being one of the smallest parks in Greater Victoria (it spans just 4.5 acres), Gonzales Hill Regional Park has some of the most impressive views. From the lookout, you can see the Strait of Juan de Fuca, the Olympic Mountains, Sooke Hills, and the Salish Sea.
44. Mount Washington
For those who love to hike and mountain bike, Mount Washington is worth the drive (it's roughly three hours from downtown Victoria). The region is home to some of the best hiking and mountain biking in the region.
45. Fort Rodd Hill and Fisgard Lighthouse
Fisgard Lighthouse was the first lighthouse built on Canada's West Coast. Constructed in 1860, it was automated in 1929 and remains operational today. The lighthouse is flanked by Fort Rodd Hill, a coastal artillery built by the British roughly 20 years after the lighthouse was constructed.
It was designed to defend Victoria and the Esquimalt Naval Base in event of an attack from the sea. Today, you can tour the secret bunkers and military posts on a self-guided tour.
46. Dallas Road Waterfront Trail
The Dallas Road Waterfront Trail is one of the longest continuous paths that spans Victoria's shoreline. Stretching roughly 4.5 miles (7.1 kilometers), it's an incredible destination for running, walks, and bike riding. Its westernmost tip also connects to the Ogden Point Breakwater, making this a great opportunity to also walk out on the iconic landmark.
47. Mount Finlayson
Looking for a hike with some elevation gain and a reward-worthy view at the trip? Mount Finlayson offers a steep incline and expansive sights worth lingering.
48. Elk & Beaver Regional Park
It may not be warm enough for a swim during the spring at Elk and beaver Lake Regional Park, but there's still plenty to do. Hiking trails here are a favorite. So too is canoeing and kayaking on the gentle fresh water.
49. Lone Tree Hill
Lone Tree Hill is a 1.2-mile out-and-back trail with relatively minimal elevation gain (just 426 feet). Yet despite the lack of muscle-burning gain, the hill's peak offers incredible vistas of Victoria, the Olympic Mountains, and Malahat. It's also widely considered a fabulous birdwatching destination, as it's frequented by bald eagles, ravens, and turkeys vultures.
50. Westsong Walkway
The Westsong Walkway is a flat, three-mile walkway that curves along Victoria's Inner Harbor. From here, you can watch the boat and seaplane traffic. It also passes by a few different water-facing restaurants, such as the Delta Hotel and Boom + Batten Cafe.
51. Mile "0"
The Trans-Canada Highway stretches the entire length of Canada, spanning 4,860 miles (8,000 kilometers). It's the fourth longest highway in the world and features dozens of unique attractions along the way. Mile '0' – the beginning of the highway – is located in Victoria. Visiting this iconic landmark is a great way to get a taste of the trek.
52. Willows Beach 
White sandy beaches in the Pacific Northwest? Yep! You can find them. If you're craving some smooth sand (without an hours-long flight), Willows Beach is your destination of choice. It's located along the eastern side of Victoria and offers views of Discovery Island.
53. Ross Bay Cemetery
It's said that Ross Bay Cemetary is haunted. However, no sightings have been reported during the day, making this idyllic setting a fabulous place to stroll.
54. Mill Hill Regional Park
Do you prefer your hikes with less crowds and plenty of beauty? Mill Hill Regional Park delivers this perfect combination. Plus, it has just a 200-meter elevation gain, so don't expect to get too tired.
55. Trial Islands Lighthouse
The Trial Islands Lighthouse is located on Victoria's northern shoreline, situated on the Trial Island Ecological Reserve. Visiting the reserve isn't permitted, as the grounds are designated as a wildlife sanctuary. However, you can see the lighthouse from both Clover Point and Beacon Hill Park's waterfront. The lighthouse has a unique 'apple-core' design that's not commonly seen in lighthouse construction.
56. Goldstream Provincial Park
Goldstream Provincial Park is a year-round destination for outdoor lovers. But as with all things spring, it takes on a particularly delightful bit of new life. Plus, the waterfalls here are especially full with winter melt and spring rains swelling the streams and rivers — making for beautiful backdrops.
Top Places to Eat and Drink in Victoria, BC
Do you think no vacation is complete without great food? Us too! And Victoria delivers. With a long growing season and a ready supply of seafood, chefs here are known for flexing their creative juices to create delicious and inspiring dishes.
57. Indulge in Eggs Benedict
Do you love brunch? Does that mid-morning meal designed for lingering and celebrating bring you joy? You are not alone. Victoria has been unofficially dubbed the 'Brunch Capital of BC,' and it does not disappoint.
And if a meal could have a mascot, eggs Benedict (affectionately known in Victoria as Bennies) would be doing back flips down Government Street. These hearty breakfasts come in a wide range of flavor profiles with the classic savory being updated to include sweet and spicy options. Combos range from classic ham and lemon hollandaise to untraditional pairings like fried chicken with jalapeno jelly.
Discover the best places to get eggs Benedict in Victoria, BC.
58. PUBS!
Pubs (also known as public houses, ravens, or bars) have served as community watering holes for locals and travelers for thousands of years. When you're visiting a new city, exploring the local offerings is one of the best ways to acquaint yourself with the city's culture. And there's no better way to explore a wide range of these establishments than on a DIY Pub crawl!
59. Victoria Food Tour
Get to know some of the city's best bites on a guided food tour. Offered by A Taste of Victoria, this two-hour tour has been named among Canada's Top 10 Experiences on TripAdvisor for six years in a row. It includes some of the city's best-known and hidden gems.
60. Cowichan Valley Wine Country Tour
Located roughly one hour from downtown Victoria, Cowichan Valley isn't the most well-known wine region in the world. In fact, it's a relative newbie. But don't let its age fool you — this sweet slice of fertile ground produces note-worthy pours that have earned it a special designation. Discover some of the top can't-miss wineries in the valley.
61. Victoria Food Trucks
Do you prefer your meals with a bit of fresh air and curbside ambiance? Victoria's food truck scene offers exceptional fare in informal settings. The collection of rolling purveyors includes a modern take on Songhees culture with indulgent offerings like cheese and crab risotto balls.
Want to supercharge your breakfast? The egg-filled sandwiches at Morning People are big, hearty, and wholesome. Are burgers more your style? TasteBuds serves up chargrilled organic burgers (along with Jamaican jerk chicken, smoked pork sandwiches, and more) that are sure to satisfy. And for those who need a sweet treat, Sub Zero Ice Cream offers scoop ice cream in 11 decadent flavors.
62. Savor the Sea
Victoria's close proximity to the ocean makes it a prime destination for sea-to-table cuisine. Here, menus frequently highlight the best local, seasonal catch. Among the favorite offerings is the walk-up window at Red Fish Blue Fish, which is known for serving some of the city's best fish and chips. (It also happens to be located beside Victoria's Inner Harbour, less than a five-minute walk from the Victoria Harbour Airport.)
Looking for seafood with a bit more formal setting? Blue Crab's seafood-focused menu and stunning waterfront views have earned it a reputation as one of the best around.
63. Fisherman's Wharf
Perhaps Fisherman's Wharf should be found with the seafood recommendations, but this unique destination is so much more. The colorful houseboats (yes, people actually call them home) are tucked beside local purveyors and the occasional harbor seal visiting for scraps. (Please refrain from feeding the seals.)
64. Tour a Working Cider Distillery
There's never a wrong time to visit the Merridale cidery & Distillery, but spring is perhaps the best. The apple trees are a riot of blossoms as busy bumble bees fly between the branches. And this is a destination you certainly want to visit hungry and thirsty. The distillery's restaurant offers fresh-made pub-style food and cider flights.
65. Noodle Bowls, Bao Buns & Sashimi
Beyond simply wandering Victoria's Chinatown and soaking in the sights, one of the best ways to immerse yourself in this historic landmark is by sampling the cuisine. It's a particularly delightful endeavor, as this unique neighborhood is home to some of the best restaurants in the city.
Bāo is one of the most underrated restaurants, serving fluffy bao buns that are addictingly savory and sweet. Looking for sushi? NUBO Kitchen + Bar offers a tapas-style selection of Japanese fare that is celebration-worthy. Want authentic Chinese BBQ? There's no better destination in the city than Wah Lai Yuen where ducks hang in the window and BBQ Pork Buns and stuffed daily. Sweet, juicy, meat-filled. These buns are worth the visit.
66. Victoria Public Market at the Hudson
Housed in a historic building — the Victoria Public Market at the Hudson was once an HBC department store — this year-round, indoor market is a community hub. Its retailers are an eclectic mix of artisan food vendors, craft coffee aficionados, and local artists. At its core, communal tables offer gathering grounds for those sharing a bite, relaxing with friends, and more.
Best Places to Shop in Victoria, BC
Those looking for a great souvenir to commemorate their trip will love shopping in Victoria, which has been recognized by fashion icons like Vouge for its trendy fashion scene. Plus, the exchange rate can make those pricetags feel surprisingly small.
67. Discover 'Your' Scent at Zingaro Floral Perfumery
What is 'your scent'? Has anyone ever asked you? Or better yet, helped you find it? Palma Cafolla, founder and parfum-mastermind behind Zingaro Floral Perfumery, invites visitors to take a guided tour of parfums. Smelling and experiencing your way to the scent that speaks to you, Palma teaches you about scent memories and more.
68. Violette Boutique
Handcrafted fashion jewelry, accessories, and little luxuries can offer the perfect memento for a trip. Not to mention, they can offer a simple form of self-care when you return home. And Violette Boutique is loaded with unique offerings.
69. Citizen Clothing
Looking to mix up your wardrobe? Visit Citizen Clothing. The collection of fresh threads is often filled with unexpected touches that can add some intrigue to your daily vibe.
70. Johnson Street
Johnson Street, (aka LoJo in the fashion world) is the premier destination for high-end shops. In addition to being the ultimate place to capture a selfie, thanks to the pride shop owners take in their unique storefronts, it's the go-to spot for trendy boutiques.
71. Still Life
Want explore the city's latest fashion trend? Still Life is your destination. Offering a boutique collection of fashion-forward clothes, shoes, bags, and more.
More Fun Things to do in Victoria, BC
https://kenmoreair.com/wp-content/uploads/2023/02/Horse-Drawn-Carriage-rides-in-Victoria-BC.jpg
380
720
Mikaela Judd
https://kenmoreair.com/wp-content/uploads/2022/03/logo_kenmoreair_main.svg
Mikaela Judd
2023-03-16 05:00:00
2023-08-18 18:18:36
70+ Things to do in Victoria, BC this Spring