Unique Things to do in Seattle this Winter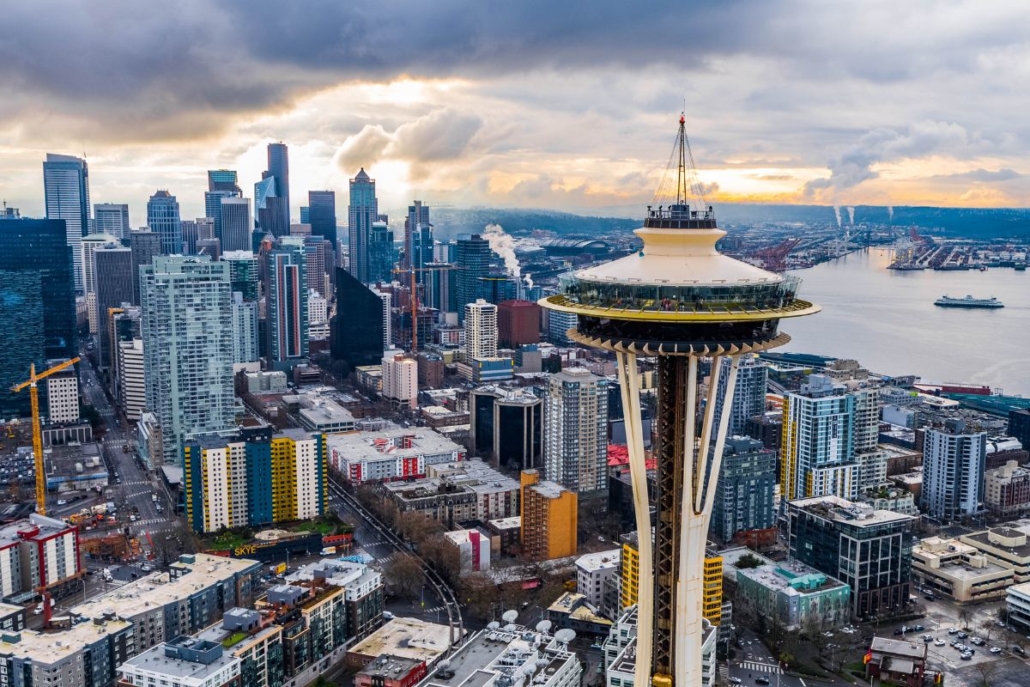 Published Nov. 7, 2019 | Updated October 31, 2022
Sure, Seattle gets the 'occasional' rainy day during the winter. But natives have long since learned that the grey skies aren't a reason to write off the Emerald City. In fact, with its plethora of cozy refuges, lively winter events, and inspiring museums, you'll never be short of unique things to do this winter in Seattle.
30 Can't-Miss Winter Activities in Seattle
1. Seattle Pinball Museum
Does your inner kid or actual kid go gaga over pinball? This fun, family-friendly museum is a hands-on game center featuring 50 different pinball machines that are changed out regularly.
2. Release the Kraken
The thrill of the NHL is now thriving at the heart of Seattle. Housed in the Climate Pledge arena, formerly the Seattle Center's framed KeyArena, is touted as the most beautiful and sustainable arena. It's also home to some of the most unique and elevated stadium food you've ever experienced, including the Bacon Pop Rock Potato (a Hasselback potato tipped with dill, Beecher's cheese, and Bacon Pop Rocks), poké bowls, and a plant-based twist on cheeseburgers.
3. Museum of Flight
The city's famed industrial history began long before electric guitars and computer code. In fact, it could be said Seattle's first major contribution to the world began on Lake Union when Bill Boeing launched his first aircraft in 1916 — a launch that eventually led the city to become a hub for aviation development and manufacturing. Explore the history of aviation, especially as it pertains to Seattle, at the Museum of Flight.
4. Sky View Observatory
Located on the 73rd floor of the Columbia Center, the Sky View Observatory's 360-degree view it the tallest in the Pacific Northwest. It sits perched above Seattle's original skyscraper, the Smith Tower. On a clear day, it offers panoramic views of the Olympic Mountains, Mount Rainier, Mount Baker, and more! Plus, the observatory's café features signature cocktails and local pints for those who want to wander and sip.
5. Cheer for the Hawks
You may want to bring your earplugs. Lumen Field, home of the Seattle Seahawks, is the second loudest stadium in the NFL. And with good reason — the fans are known to cheer all game long. Hot tip: You'll also want to dress for rain. You never know when Seattle will have a slight drizzle. The last thing you want is to sit through a game wet and cold.
6. MOHAI
As you explore all the things to do in Seattle, have you ever wondered where the city started? Explore the city's roots at the Museum of History and Industry (MOHAI). Tucked at the southern tip of South Lake Union in the historic Naval Reserve Armory Building, its structure extends over the watery shores – a fact which you can see from within the 165-foot wooded sculpture that rests within the Grand Atrium.
This interactive, educational museum offers something for those of all ages, right down to the thrilling sight of a Boeing B1 that's suspended from its rafters.
7. Museum of Pop Culture
From the air, the Museum of Pop Culture (MoPOP) is hard to miss, thanks to its color design. But the building's exterior is only the beginning. MoPOP's experiential exhibits range from Jimi Hendrix to a deep dive into the virtual landscape of Minecraft.
8. Explore Seattle's Underground
Seattle wasn't always built at the level it is today. Quite literally, the original streets were at sea level, meaning the roads and plumbing were at the mercy of the tide. But following the Great Seattle Fire of 1889, the downtown hub was raised an entire level. But 20 feet below the streets we know today, you can still find remnants of the city's original footprint when you take the Underground Tour.
9. DIY Coffee Tour
Brave the weather like a true native — beating the winter chill with a warm cup of coffee. As the birthplace of not only Starbucks but smaller gems like Victrola, Café Ladro, and Herkimer, Seattle knows a thing or two about how to create the perfect pick-me-up. Discover Seattle's best coffee shops and create your own caffeine-loaded tour.
10. Woodland Park Zoo
The chance of rain means fewer crowds and less of a fight to claim the prime viewing spots at the Woodland Park Zoo. Plus, the zoo's annual Wildlights event is a festive way to enjoy this Seattle gem. During Wildlights, the zoo is decorated with festive displays and sparking lights, offering up-close animal encounters, hot chocolate, and more!
11. Seattle Aquarium
Explore Puget Sound's fascinating wildlife. The Seattle Aquarium's immersive underwater exhibits take you beneath the sea. Walk under the water in their Underwater Dome. Feel the spiky back of a sea urchin. Say hello to the harbor seals. It's non-stop fun!
12. Visit the World's 'Most Instagrammable' Library
It's hard to miss 4th Avenue's glassy geometric beauty. But chances are when legendary architect Rem Koolhaas designed the book-lovers refuge, he didn't plan on it being the "most Instagrammable" library in the world. And yet, the colorful hallways and plethora of natural daylight — not to mention its exquisite collection of books — have made it a must-snap on any Seattle visit.
13. Tour Theo Chocolate Factory
The Fremont-based bean-to-bar operation is a working factory. Meaning you get an up-close and personal view of the entire process from start to finish. Just be sure to ditch your perfume on this day, as the facility is a fragrance-free zone.
14. Seattle from the Space Needle
Towering at an impressive 605 feet, the Space Needle was built for the World's Fair. It underwent its first major renovation in 2017, when the observatory received a glass facelift — featuring floor-to-ceiling glass windows that offer an uninhibited view of the city. No building in the city is as iconic or offers the same view of seaplanes landing on Lake Union.
15. Pacific Northwest Ballet
The Pacific Northwest Ballet is one of the best ballets in the region — offering unique and expiring productions that will delight and inspire. From seasonal tales like The Nutcracker to innovative ballets showcased in The Seasons' Canon, you and your loved ones are sure to be entertained.
16. Find Your Perfect Running Shoe
Head to Brooks Trailhead — the running shoe giant's flagship store — and hop on the treadmill for a free gait analysis. The experienced staff will help you find your "sole mate," the perfect shoe to compliment your unique gait. Plus, you'll burn a few calories along the way.
17. Explore Seattle's Garden of Glass
Rain or shine, Seattle's Chihuly Garden of Glass pops with color. Massive flower-inspired chandeliers hand from the ceilings. A dramatic seafloor-inspired installation stretches the length of a ballroom. And for those who like to work out while they sightsee, the museum often holds yoga sessions in its Glasshouse.
18. Wings Over Washington
Take a ride over Washington as though you were an eagle. At this state-of-theater "fly theater," you'll be strapped into your seat for an immersive areal adventure tour above on of America's most scenic and beautiful states. Using 5K Cameras, MUSHROOM VR™, and a ground-breaking surround system you'll be able to see and smell all that the Pacific Northwest has to offer.
19. Seattle Art Museum
Rain or shine, the Hammering Man towers above the entrance to the Seattle Art Museum (SAM). His continual arm movement beckons the adventurous soul to explore the city's broadest array of art. SAM showcases a rotating collection of ancient and modern works from throughout the world, with more than 25,000 pieces on display.
20. Pacific Science Center
With more than 200 indoor and outdoor hands-on exhibits, the Pacific Science Center will delight those of all ages — especially your littles. From the Laser Dome and virtual reality experiences to a tropical butterfly house and more, you'll discover hours of entertainment.
21. Pike Place Market
Generally, Pike Place is praised as a summer activity and crowds flock to the farmer stalls and local shops. But during the winter, you can experience the charm of this hand-made and locally sourced goodness with less hustle and bustle. As a special treat, be sure to visit during the 27th Annual Magic in the Market event when you can witness the treat lighting ceremony, enjoy festive music and cookie decorating, and take your photo with Santa.
22. Enjoy Happy Hour
It's no secret Seattle offers a wealth of indulge-worthy restaurants. And, there's no better way to sample them than during happy hour. You'll find a fabulous selection of happy hours throughout the city — especially in South Lake Union.
23. Finetune Your Golf Game
Many a golf game is won or lost on the green. And what better way to finetune your handicap than over a pint with friends? At Flat Stick Pub, you can do it all. This lively game center features indoor mini-golf and a lively environment.
24. Silent Reading Party
This might be one of the strangest and most wonderful parties you'll ever attend. The Silent Reading Party at the Sorrento Hotel is just as the name suggests — a quiet evening where people read. Held in the hotel's fireside room, it's an invitation to bring your favorite book and enjoy a drink with other fellow book lovers — many of whom you don't even know!
25. Fly Face-to-Face with a Living Giant
During the winter, the snow-capped peaks of Mount Rainier and Mount St. Helens are covered with a breathtaking blanket of fresh powder. The Mount Rainier and Mount St. Helens Volcano Tour gives you a window seat to get an up-close and personal view of these amazing mountains.
26. Board Game Fun
Whether you're a committed gamer or a casual player, you'll find boxes of fun at Mox Boarding House. The all-American menu of small bites and entrees is perfect for a night of noshing. And for those who want a pint (or two) the tap selection includes a variety of local pours.
27. "Climb On" at the Seattle Bouldering Project
While you might not want to go hit the cliffs during a drizzly day, there's nothing to say you can't boulder away. The Seattle Bouldering Project is a Seattle staple. This indoor climbing gym offers a variety of climbing walls ranging in difficulty. They even have an occasional DJ night for some late-night sweating action.
28. Tour the Amazon Spheres
Generally speaking, Amazon's two glass biomes are a luxury reserved for employees. Featuring roughly 40,000 plants from 30 different countries, the massive domes stand at an impressive four stories. However, on most Tuesdays and Thursdays, they offer 90-minute guided tours of the campus — including the famed Spheres.
29. Volunteer Park Conservatory
Spanning more than 6,000 square feet, the Volunteer Park Conservatory is an indoor greenhouse that features five unique "houses": the bromeliad house, the palm house, the fern hours, the cactus house, and the seasonal display house. It's typically temperature regulated to 72 degrees, making it a great place to warm up on a cool winter day in Seattle.
30. Ride the Seattle Great Wheel
The largest Ferris wheel in North America, the Seattle Great Wheel is located at the edge of Elliot Bay on Pier 57. It features fully-enclosed gondolas that offer picturesque views — rain or shine. Ride times can vary from 12 – 20 minutes, depending on how crowded the gondola is. A private VIP gondola is also available, equipped with leather bucket seats, a stereo system, and a glass floor!
https://kenmoreair.com/wp-content/uploads/2019/11/Seattle-during-the-winter-and-the-space-needle.jpg
380
720
Mikaela Judd
https://kenmoreair.com/wp-content/uploads/2022/03/logo_kenmoreair_main.svg
Mikaela Judd
2022-10-31 17:34:20
2022-11-04 15:41:56
Unique Things to do in Seattle this Winter